When it comes to buying a diamond watch, you will often only come across high-priced companies like Rolex, Audemars Piguet or Patek Philippe. Some of these companies have made it their policy to only use diamonds of the categories FL (flawless) and VVS1 or VVS2 as a quality feature. With this one has arrived at the absolute top class of diamonds. Such diamonds have no imperfections or only those that can be seen by experts under 20x magnification (VVS2). If such a watch is on the shortlist, it must be clear that this is not only a piece of jewelry but also an investment since the mounting of FL and VVS diamonds on a watch is absolute master craftsmanship.
In my opinion, the clarity of the diamonds for a diamond watch is not the first criterion that should be decisive. As long as the diamond has no visible inclusions, such diamonds are called SI1 or SI2, all diamonds should be suitable for mounting on a watch. However, if the watch is also seen as an investment, then one should definitely at least choose VVS diamonds, as they have a very good reputation and will not lose value for the next decades. To find a wide range of VVS diamond watches the company Rolex is a good choice.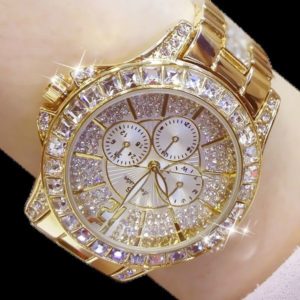 Where can diamonds be mounted?
The ways in which diamonds were mounted on watches have become fancier and fancier. Symbols or numbers on the dial are often replaced by diamonds. For example, the 12 numbers can be replaced by small 0.5-carat diamonds. Another possibility is to round the dial of 0.8-carat diamonds. A very expensive variant is to replace the entire watch strap with diamonds. This is usually a silver or platinum watch band as a base and then diamonds are mounted on the entire outer surface. If this is done in combination with the above-mentioned possibilities, practically the entire watch is made of diamonds, such as those made by Van Cleef & Arpels. How many and how the diamonds are mounted remains a matter of taste and ultimately also a question of money.